Hurry to the store to discover Moon River
One of the most eagerly-awaited Blue Orange games of the year has finally arrived in stores. We've been telling you about it since Cannes, we had you play it at PEL and during FLIP, we even sold it exclusively at Essen: Moon River is now available in stores.
Bruno Cathala, author of the entire Kingdomino range, worked with Yohann Servais to bring you a new addition to the range, featuring dominoes in a different form. Régis Torres illustrates the game and its new territories, bringing this new universe to life.
And yes, because we're also changing theme in Moon River. Goodbye castles, hello Wild West! You've just inherited some land, and now it's up to you to assemble the parcels to make your herd prosper. But beware: life in the Wild West is not without danger. Your opponents are clearly going to make life difficult for you.
So get your lassos ready!
Let's get down to business: how do you play Moon River? Each player takes its Reserve board and its Rancheros counters of the same color. Then place the cows, the saloon and finally, the first 4 plots. As in Kingomino, you take turns choosing your plots in the order of your Rancheros' positions. So anticipate your next turn by positioning yourself intelligently.
Your turn is divided into 3 actions:
You must retrieve your selected plot and place it in an empty space on your reserve board. This is what the 3 slots on your board are for, to store your plots until you can assemble them.
As soon as you have two plots available, you can expand your ranch by placing your newly created domino. At first, you'll place them against the bridges that act as wildcards (like the sides of Kingdomino Castle), then you'll have to follow the rules for connecting territories.
End your turn by selecting your next plot from the 4 available by placing your Ranchero on it.
On your plots, you'll discover different symbols. Here are the effects:
– Cow: place a cow on the plot with the symbol. Forget crowns, from now on cows will earn you points. And cows move, so you can optimize any part of your ranch if you play your cards right.
– Skull: when you expand a territory with a parcel containing this symbol, drought sets in, resulting in the removal of a Cow counter present in that territory.
– Circle: marks the location of a saloon associate to be recruited. These have different roles in the management of your ranch, such as guarding your herd, swapping a plot with your opponent or even stealing a cow from another player. And we know which ones you're going to choose 👀
Who will be the best Ranchero?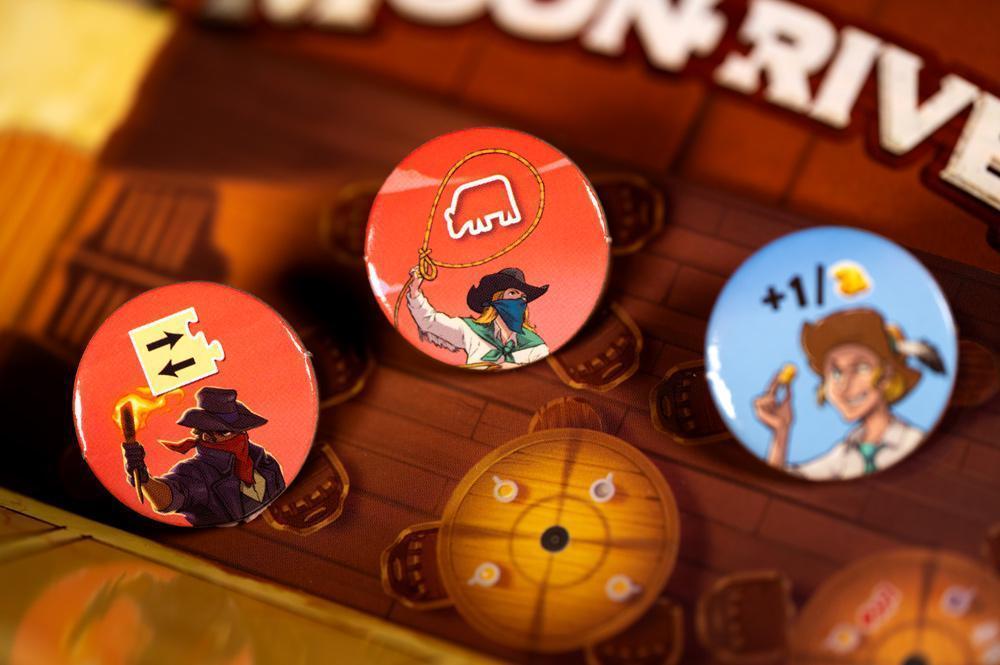 As soon as there are no more plots, the game stops. It's time to move on to scoring, with several ways to earn points. Each territory is worth a number of points equal to the number of squares it contains, multiplied by the number of Cow counters. Please note that each square can only contain one Cow counter at the end of the game!
Then, one point for each resource on the board (corn, beaver or gold nugget), and an extra point for each resource if you have associates of these resources on your board. As you can see, the person with the most points wins the game.
Moon River offers a new experience in dominoes. It's different enough from Kingdomino to appeal to you: more interaction between players, a new theme, and a domino assembly mechanism. It's the perfect family game, combining tactics and optimization. There's also an Advanced game mode with scenarios and asymmetrical individual boards, to make your adventure even more challenging.
In short, if you want to build the best ranch, you'll have to play with cattle!