Once again, we look forward to seeing you at Spiel Messe from October 5 to 8, 2023!
Yes, that's the big news this year: we're moving to a new hall! Goodbye Hall 3, hello Hall 6 where you'll find us on booth 6D300.
What hasn't changed is that we're bringing with us : an incredible scenography, a motivated team and of course a great line-up of games. You'll be able to play Volto, Taco Chat Bouc Cheese Pizza and its children's version Taco Chaton, Morris The Dodo. Our latest release Doctor Rat will of course be on the trip, juts like Moon River, which you can buy before its release in France.
Speaking of purchases, you can treat yourself to our special offers: the 3rd game at 50% off or 3 games bought = the 4th free. Worried about missing out on your favorite games? Pre-order them online and pick them up at the booth thanks to our online shop!
Follow us on Facebook and Instagram to keep up with all our preparations and news before the big day!
In addition to the games, we're offering a number of activities to make your visit even more fun! Every day, share a moment with your children as we read the story of Morris the Dodo in English and German.
If you like competition, take on players from all over the world in our tournaments of Next Station London on Saturday, October 7 at 4:00 p.m. and Volto on Sunday, October 8 at 10:30 a.m.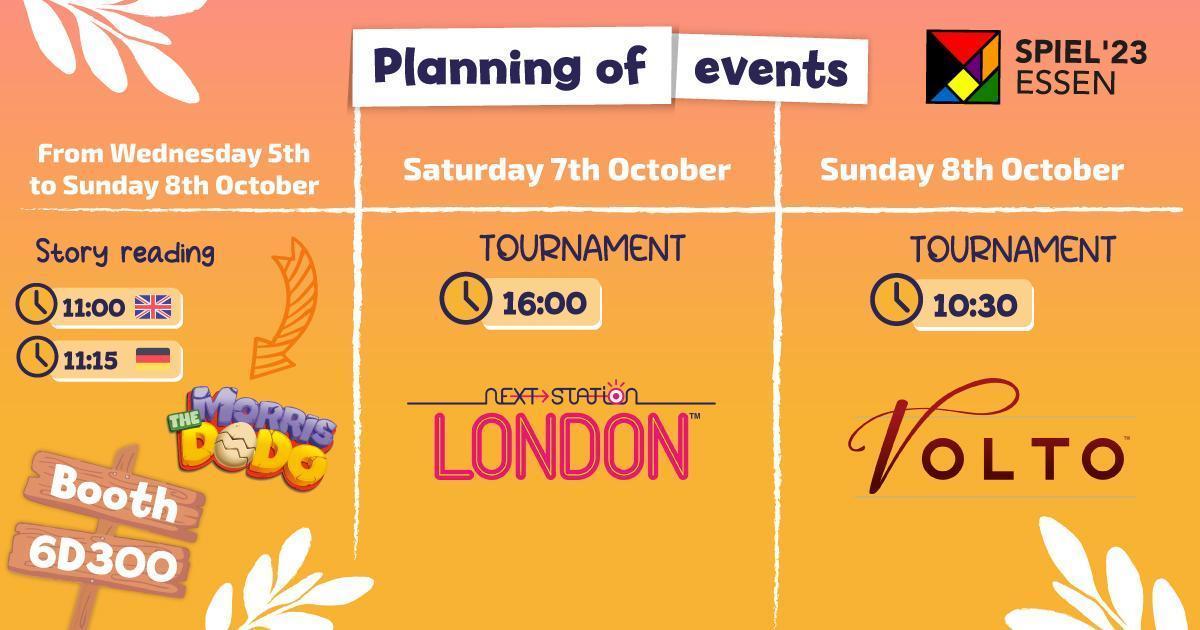 And pick them up at our booth in Essen during the fair!